UNSPEAKABLE ACTIONS...
Recep Tayyip Erdogan,

or otherwise known as "The Sultan" does his best to become the master of the Med.
In continuing with his government's infringement of International Law he thought he could deny the Greek Navy the right to collect the bodies of three airmen who lost their lives while flying in a helicopter over the island of Kinaros.
This, terribly disrespectful act was exercised by issuing a NOTAM

questioning Greek jurisdiction for search and rescue tasks (SAR ) in the range of the helicopter crash.
A Notice to Airmen (
NOTAM
or
NoTAM
) is a notice filed with an aviation authority to alert aircraft pilots
of potential hazards along a flight route or at a location that could affect the safety of the flight.
But where exactly did this event take place and under what circumstances?
The helicopter was taking part in an exercise early of Thursday 11-02-2016 and was flying from the west to the east of the island, when it fell on a 200 m high hill.
The only person living on the island, Mrs Irene, was part of the rescue efforts. She said:
Χαμός γίνεται εδώ. Είδα τα συντρίμμια, υπάρχει άνθρωπος απανθρακωμένος μέσα. Νοτιοδυτικά είναι τα συντρίμμια,. βλέπω και ένα παιδί... έναν άνθρωπο. Δεν μπορώ να μιλήσω. Σε χαράδρα είναι. Έχουν πάει άνθρωποι κάτω.
Doom is here . I saw the wreckage , man is charred inside . Southwest is debris ,. I see a child ... a man . I can not speak. In ravine is . People have gone down.
Kinaros is an island of the Dodecanese located in the sea area between the Cyclades and the Dodecanese , west of Kalymnos and Leros and east of Amorgos . It is the second westernmost island of the Dodecanese after Astypalaia . It has an area of 4.5 square kilometers . . It belongs to the municipality of Leros . The highest point of the island is 296m
Immediately after the Greek NOTAM the Turks issued their own NOTAM which

required that all relate to the media and the authorities involved in the search and rescue of the Greek helicopter reported to them!
By doing so,say observers from the Greek Ministry of Defense, Turkey is seeking to reopen the ringfenced sea Greece - Turkey borders which have been recognized by all international organizations (NATO , FRONTEX) taking advantage of the refugee crisis and NATO study for patrols in the Aegean.
Here you can see the territorial waters of Greece and the affected area.
It is clear that Turkey is trying to act on Greek soil!
Where is the future?
In 2009, French
Didier Ortolland, Coordinator of the
Geopolitical Atlas of Maritime Spaces, wrote an article on the territorial waters between Greece and Turkey:
The Greco-Turkish dispute over the Aegean Sea : a possible solution ?
Its worth a look at:
http://www.diploweb.com/The-Greco-Turkish-dispute-over-the.html
An interesting map is shown below: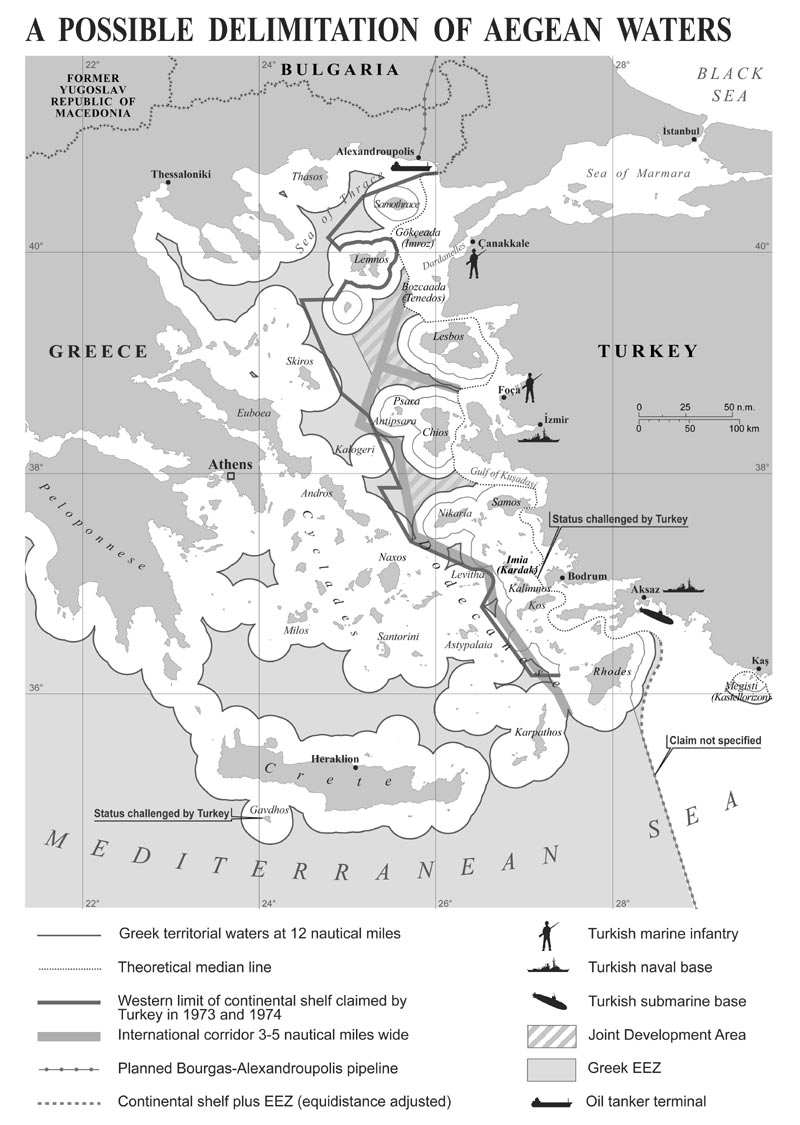 YOU MAKE UP YOUR OWN MIND...